As already posted, I took a day off in late July to get some fresh mountain air and stretch my legs. And my legs got stretched alright! :)
Ever since my teenage years I've wanted to climb Triglav via the Plemenice route. It's supposed to be one of the most demanding, precipitous and beautiful climbing routes in Slovenia as far as marked trails go.
It was a long day. After only 1.5 hours of sleep (yes, I was nervous and eager to go!) my brother and I set off at 3.30 a.m., parked the car in the Vrata valley and started hiking towards Luknja col at about 5 a.m. The sun slowly rose from behind the horizon and illuminated the peaks above us.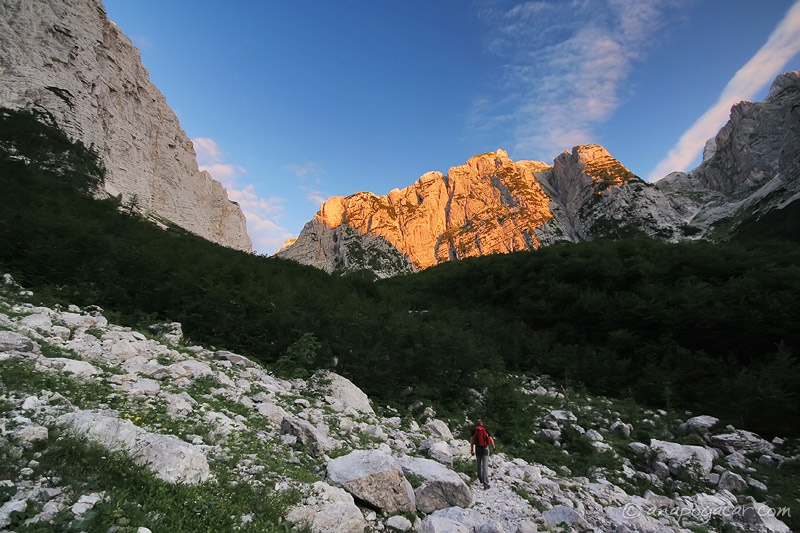 After gruelling two hours on scree this view of the Zadnjica valley on the other side opened up from Luknja.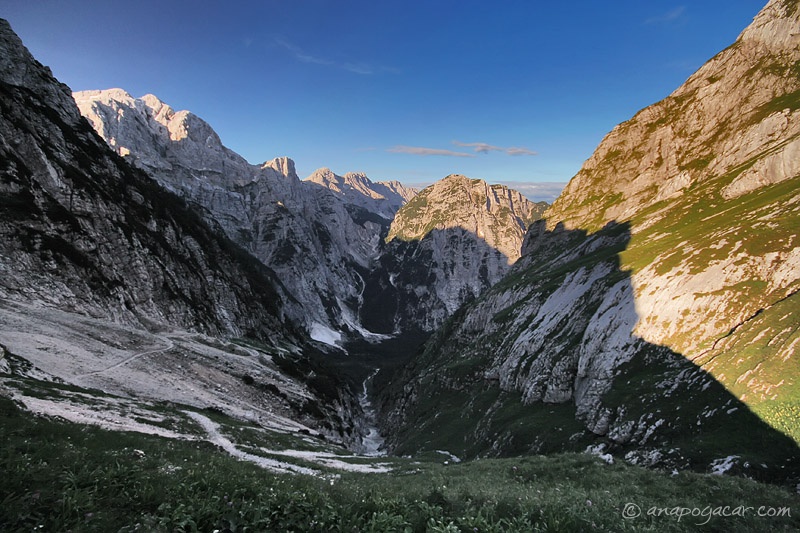 Everybody had a short break to drink some water, put away the hiking poles and put on a helmet. Then the fun began.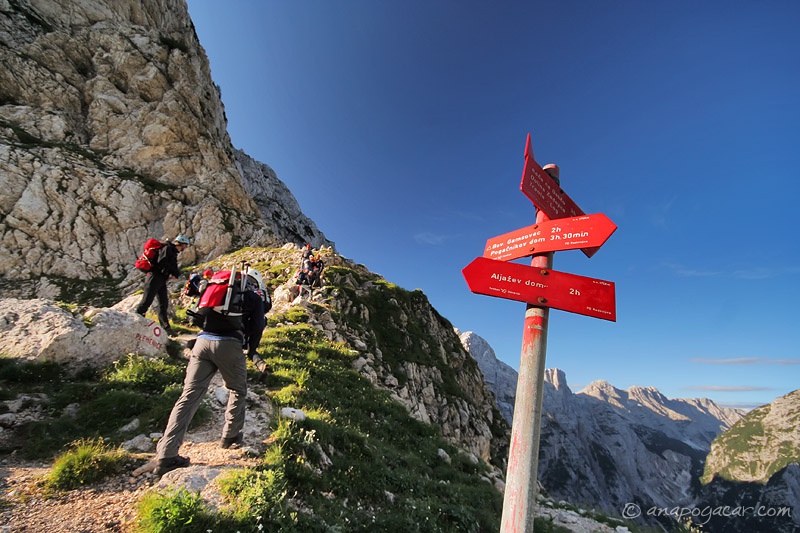 Climbing! Yeah! Unfortunately there was a huge group in front of us, which meant a lot of waiting.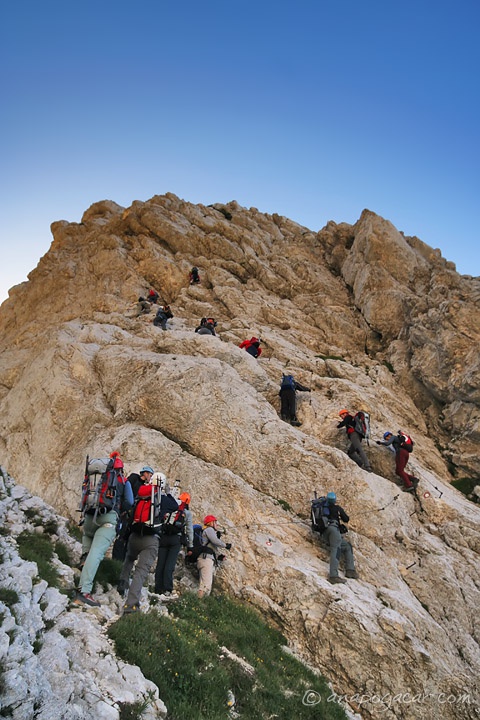 We overtook them at the first opportunity and enjoyed the climbing. We were gaining altitude fast. There is Luknja right below us.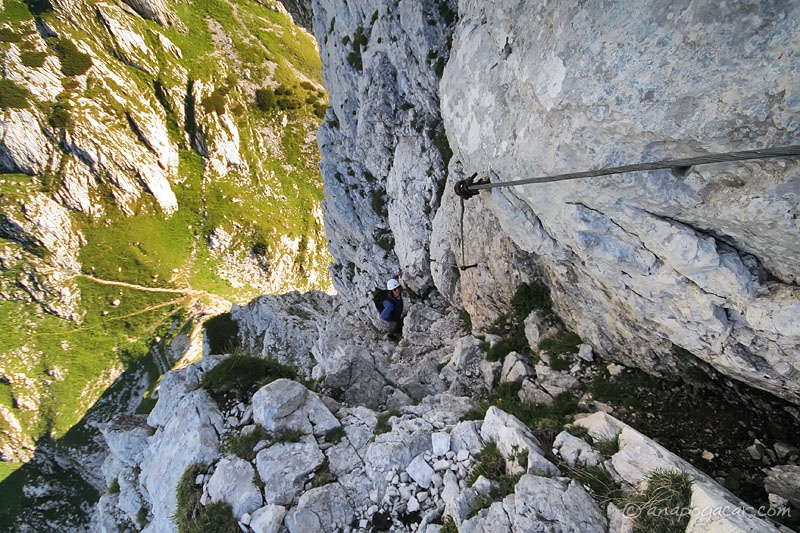 My brother took photos, too. :)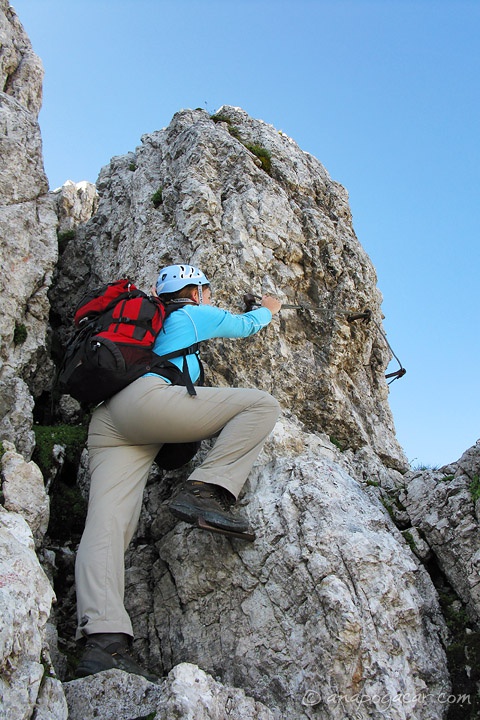 It was really exhilarating, but at the same time, a word of caution - this is not a route for the faint-hearted. ;)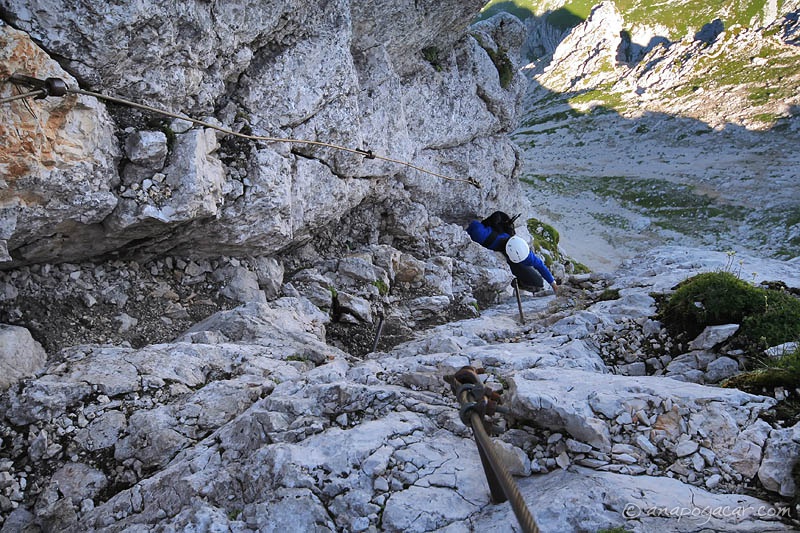 Every now and then the trail levelled out a bit and we had a chance to catch some breath and enjoy the views.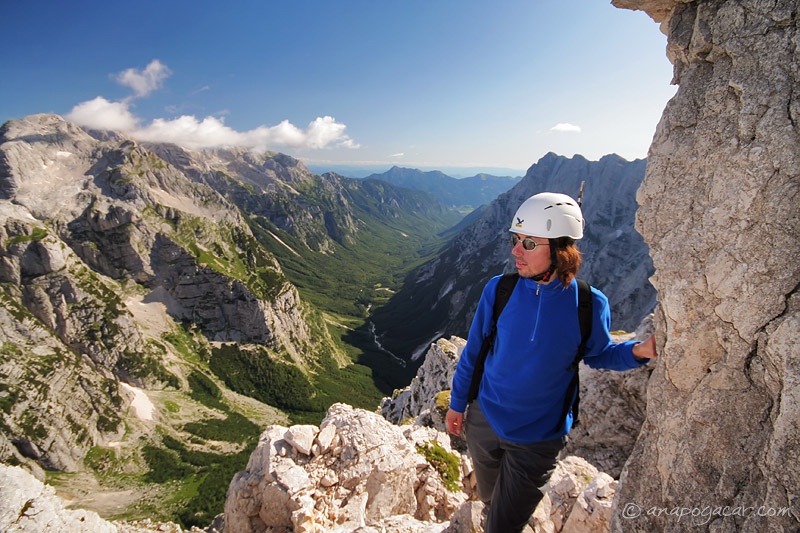 More climbing and more people on the trail.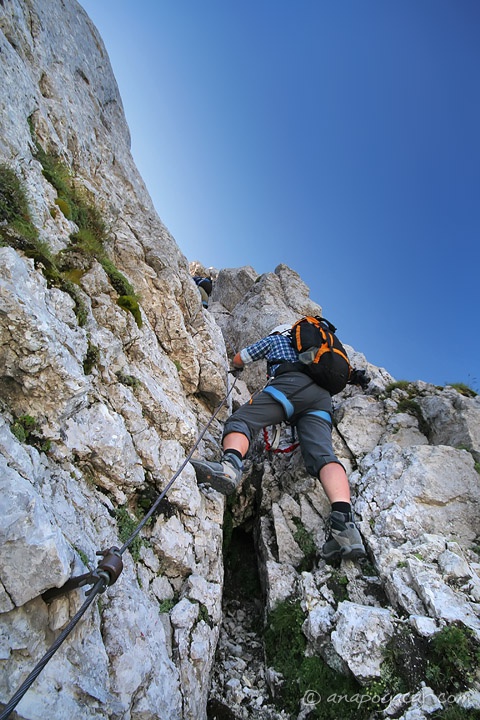 All along the way we had breathtaking views. This is the Vrata valley below and Triglav in the background with its famous north face.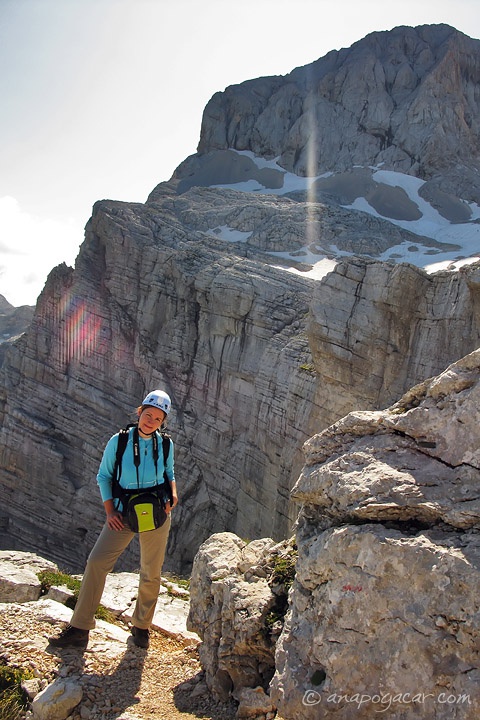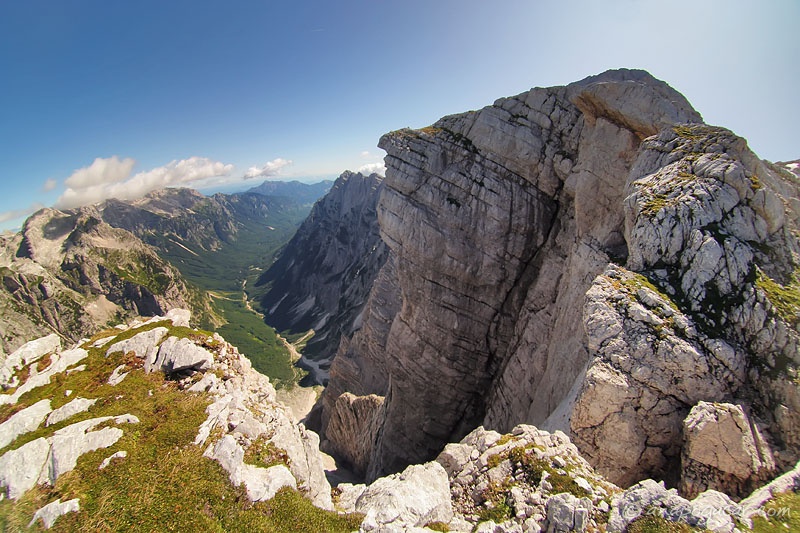 After breakfast on a grassy patch among the rocks we had to tackle a snow-covered slope. It was a bit slippery but the snow was soft and there was no need for crampons and an ice-axe.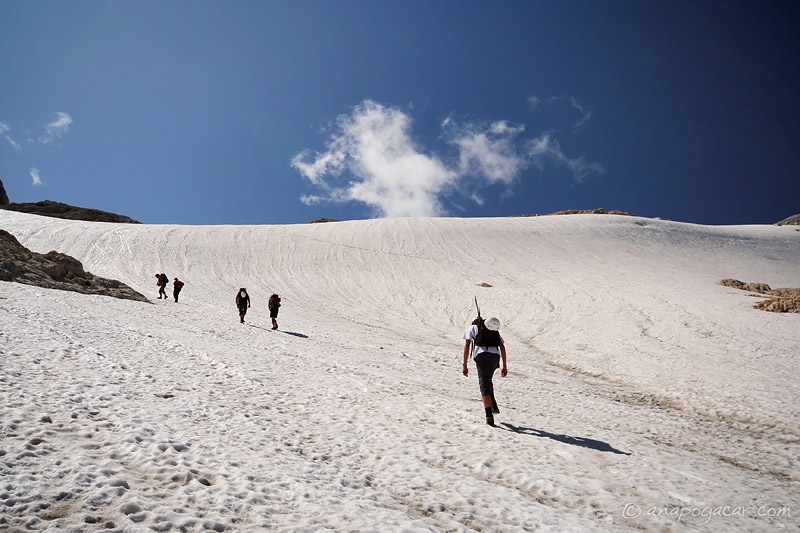 Soon we reached the rock face again.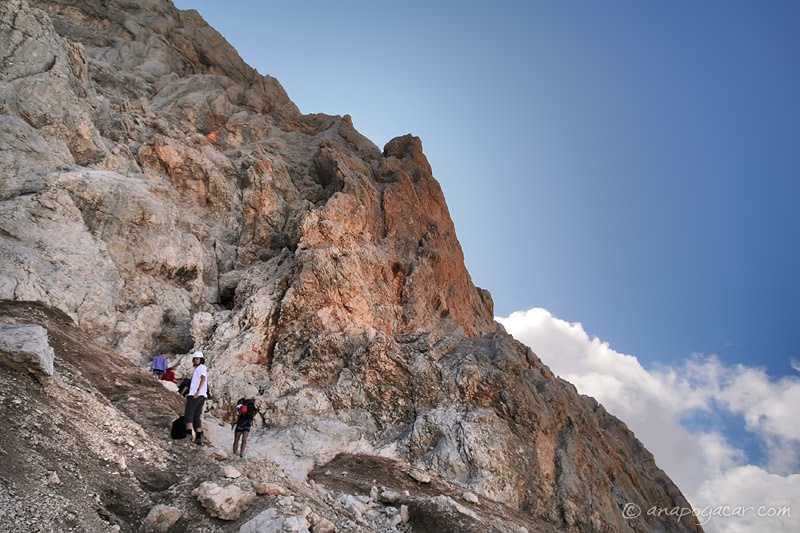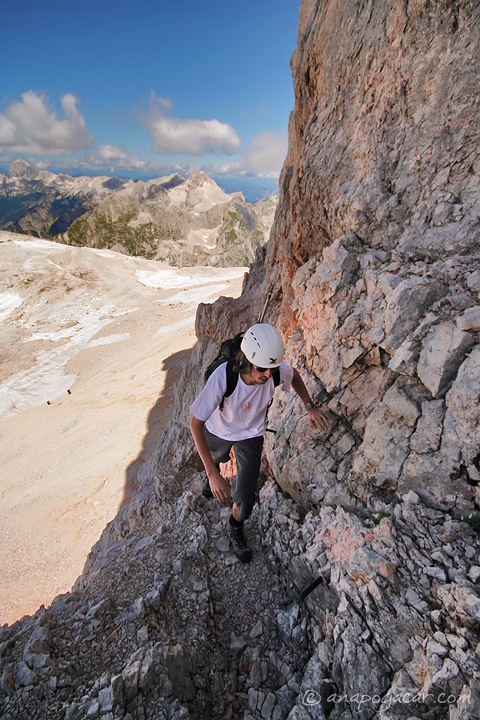 On the last stretch of the climb.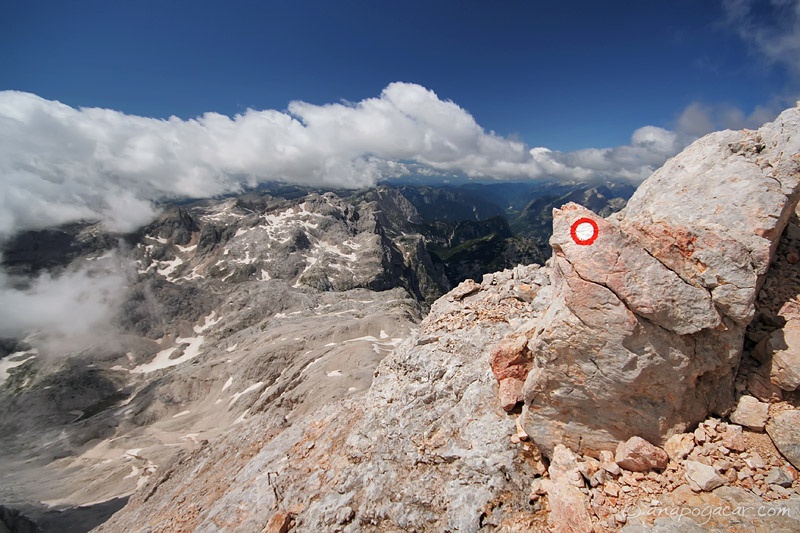 My brother had an advantage over most climbers with his long legs. :)))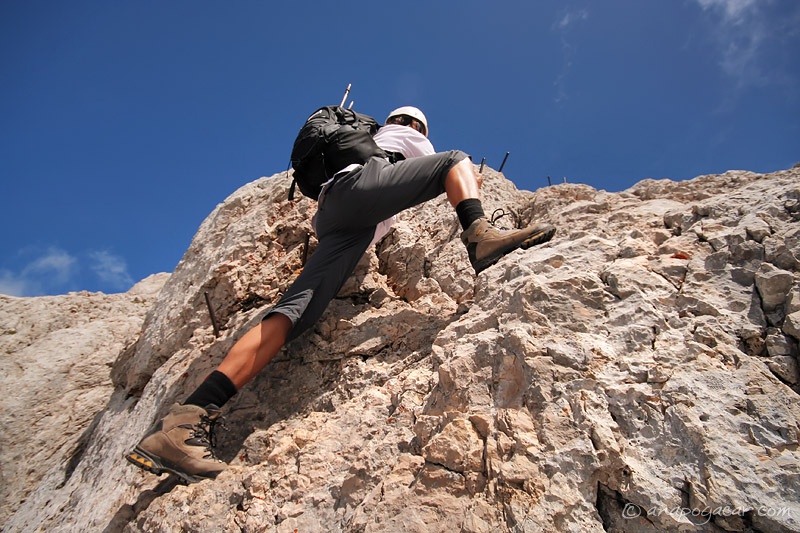 At the top it's customary for everybody who's climbed Triglav for the first time to be 'baptized' with a length of rope.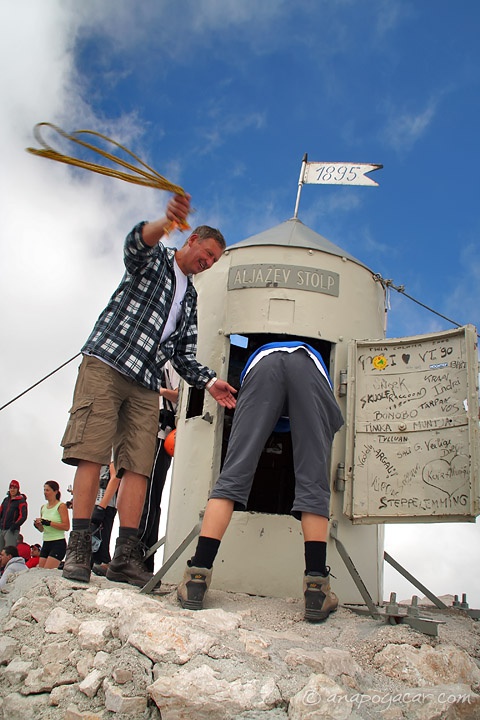 The Kredarica-Triglav trail resembles a pilgrimage. Always crowded. :( The fog that rolled in from the south prevented us to see the precipice on one side of the ridge (which is good for those with vertigo :)).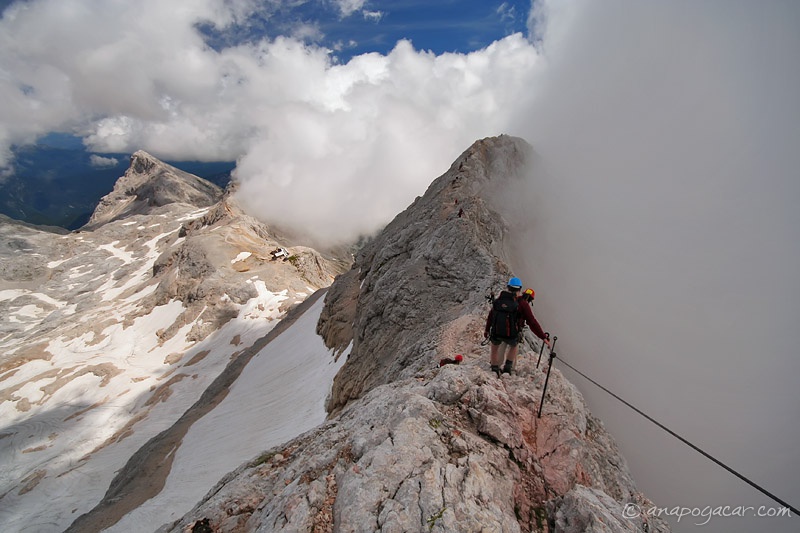 Looking down towards Kredarica and Stanič huts as well as what is left of the Triglav glacier.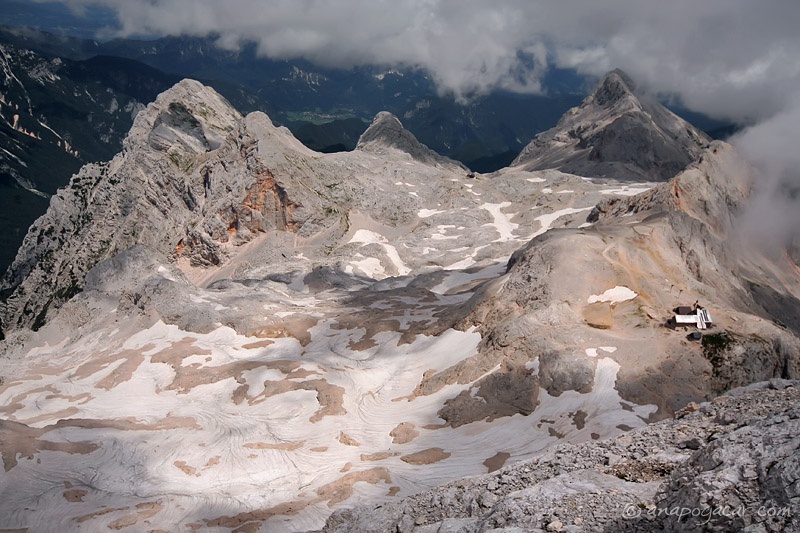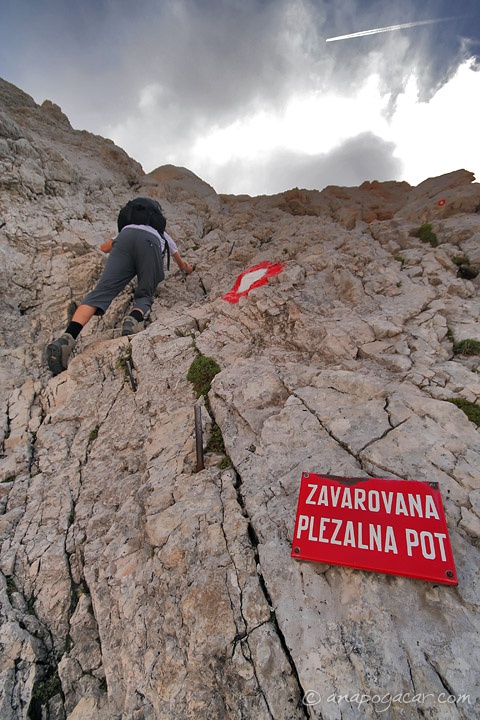 Jota - potato and cabbage soup - at Kredarica was delicious!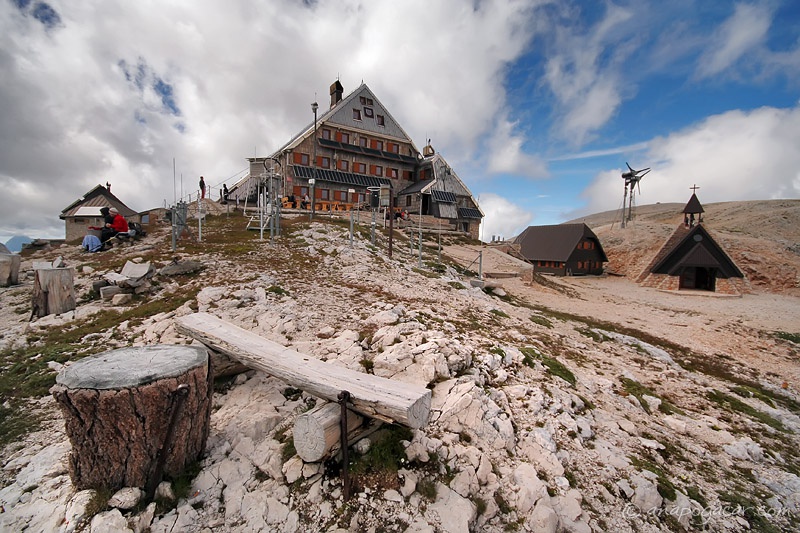 Our legs already hurt but we still had a difficult descent in front of us.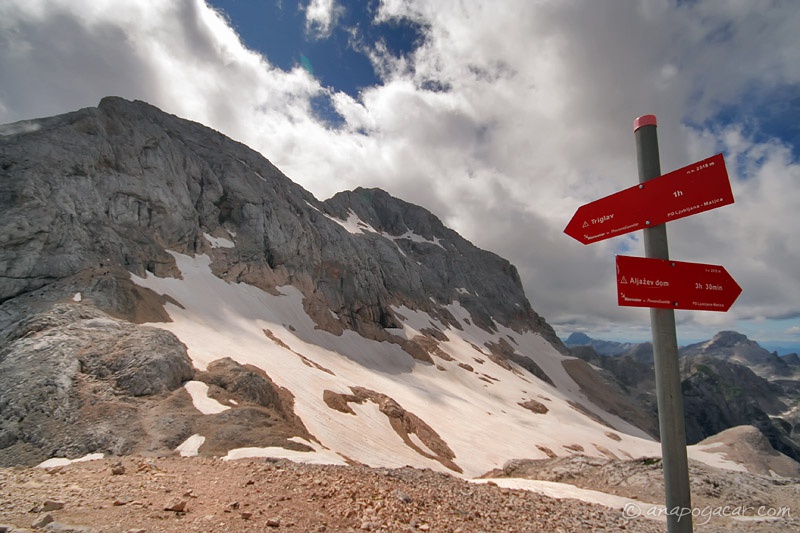 Climbing down is not as much fun as climbing up.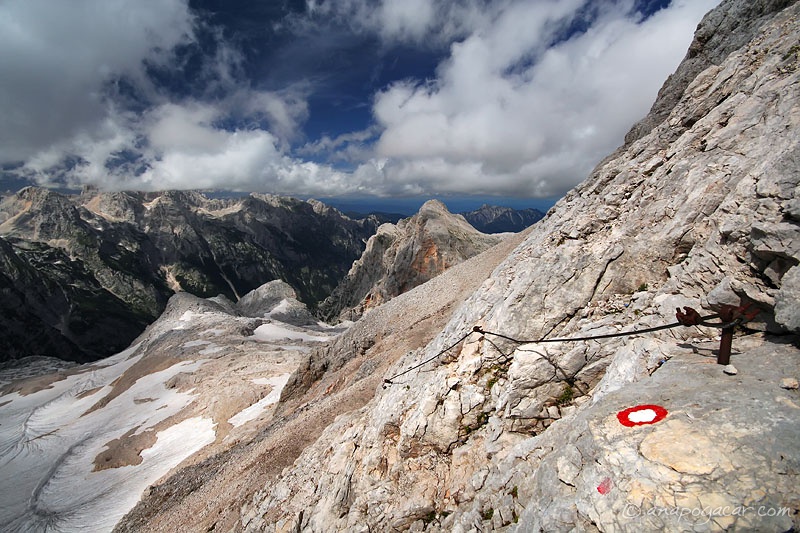 A few more snow patches to cross.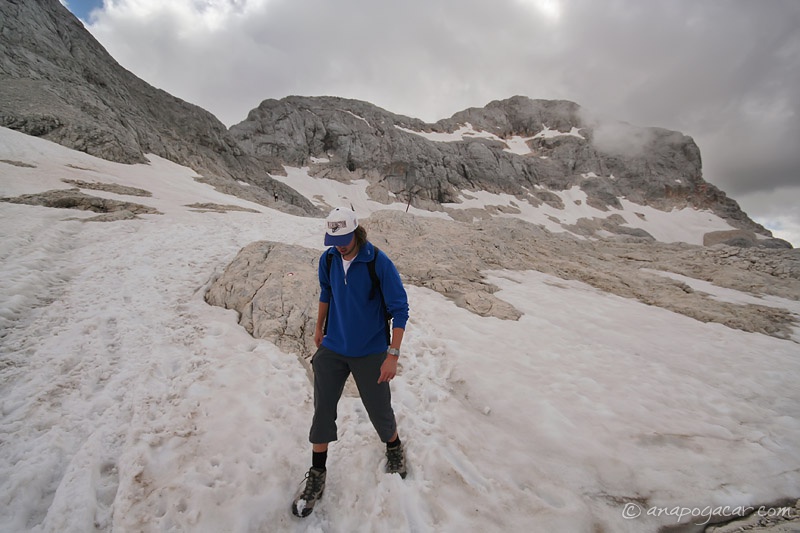 There are many reports of numerous ibexes around Triglav. We saw quite a few ...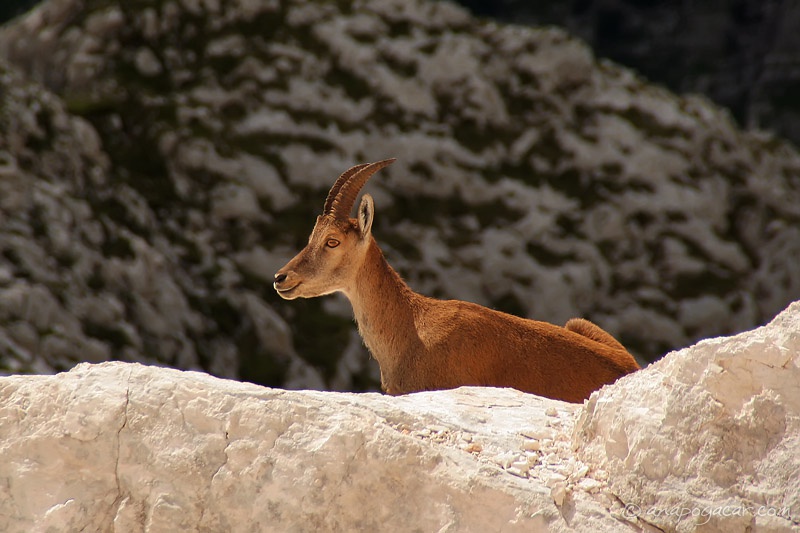 ... even cornered one with another group of hikers going up. The ibex didn't seem bothered at all, it just nibbled at grass, looking at us all the time, and then it leapt across some rocks and out of our way. Of course I had my wide lens on. :(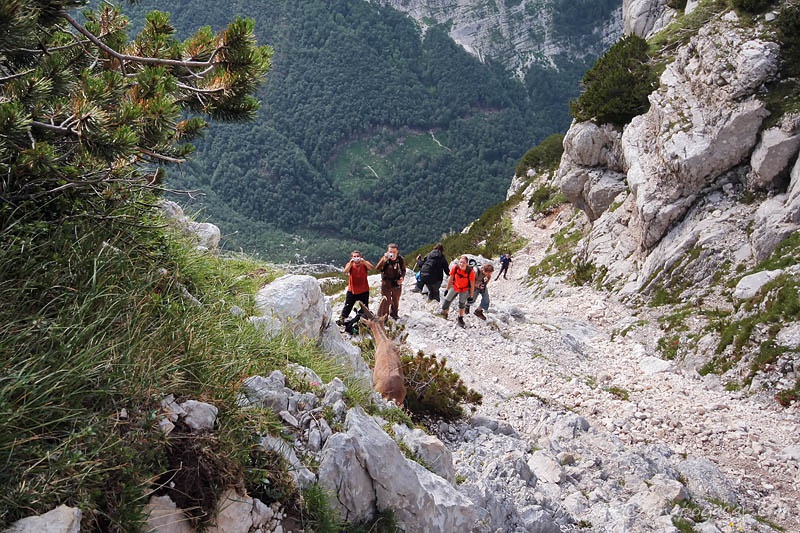 With lots of vertical meters to cover and knees that were already killing me, my will to take photos somewhat dwindled.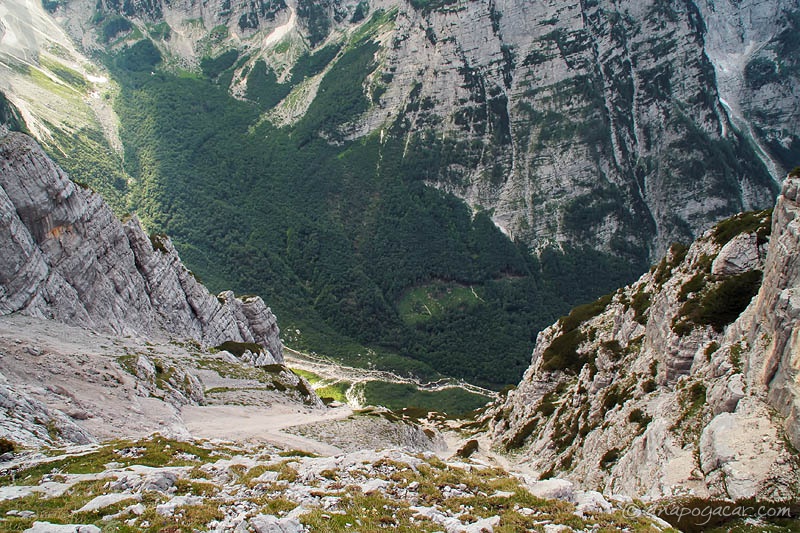 No more sun for us during the last part of the descent. This is one of the few stretches of the trail where you don't have to climb or crawl. ;)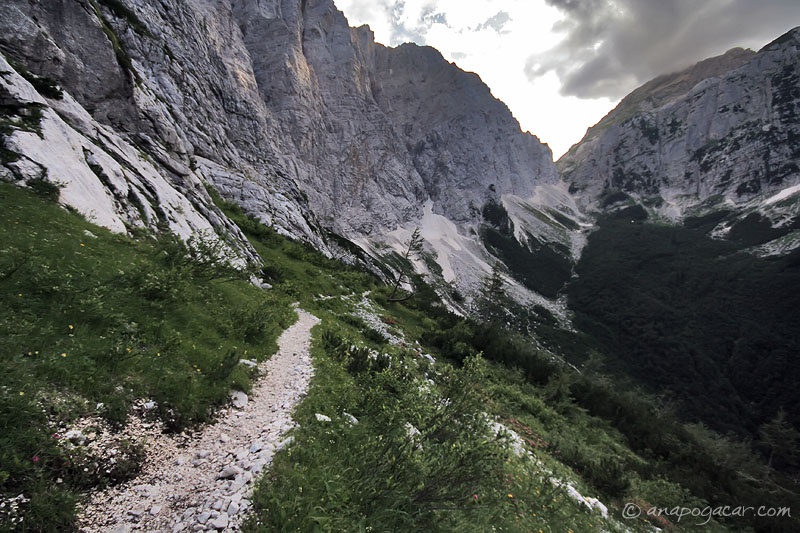 What more can I say? A truly glorious day. And a total coincidence - while descending towards Kredarica I ran into fellow blogger
Sandi
! :)
More photos
here
.
Photos of me were taken by my brother Peter.